Stainless Steel Truck Body Kennels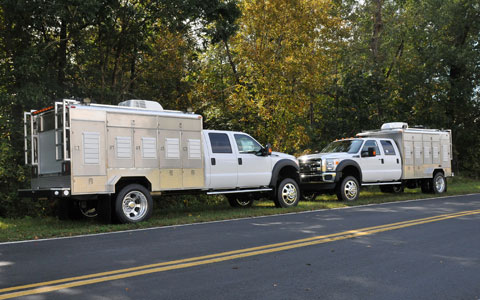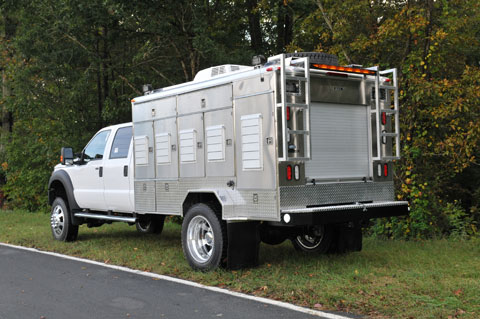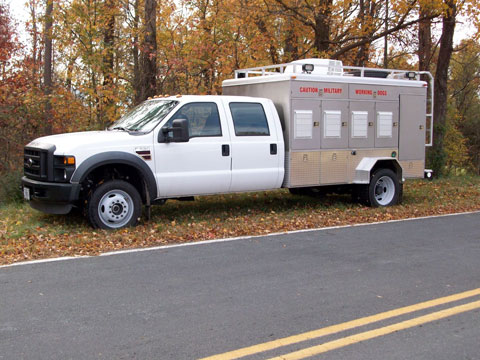 Jackson Creek Mfg., Inc. is proud to offer the finest Stainless Steel Working Dog Truck Body Kennel in the industry. This unit has been designed to meet the needs of Working Dogs under the harshest of conditions.
Standard Features:
Fully Insulated, Double Wall Construction. 4" insulation overhead, 2" insulation under floor, 1" insulation on front, 2" insulation between kennels and generator compartment.
Dog Compartment Size: 24"W x 34"T x 37"L
Dog Compartments have ventilated metal above for venting but no direct contact between compartments
Interior Partitions have 3/4" holes for cross ventilation
Pan Style kennel floors with drain
Removable Heavy Duty Rubber Floor Mats
Adjustable Multi-Louver Door Vents for all weather travel with interior screens to prevent bugs from entering kennels
Inner Safety Bar Doors on Kennels
Extra Heavy Duty Slam Latches on all Doors
Safety Latch on all Doors that can be padlocked
Gas Struts on all outer doors
Stainless Steel Piano Door Hinges, Full Length
Vent Doors above Dog Compartments
Exhaust Fan to circulate air in Dog Compartments
Rear Generator Closet with doors on both sides and a rear roll up door to allow access to generator for maintenance.
Dual Exhaust fans on top of Generator Compartment
Lower Storage Boxes from bottom of kennels to bottom edge of cab with slam shut doors, cable door stops and safety latch that can be padlocked.
LED tail, back-up and marker lights double stop/turn/tail light on rear
LED interior lights in all kennels and storage compartments
Roof is Diamond Tread Aluminum
Work Lights on Sides and Rear, Trapezoid LED High Output, total of Six (6)
Directional Arrow mounted on the back of the shelter with controls in the cab
120-Volt Power Outlets on Rear of unit
40 Gallon Water Tank
Aluminum Top Rack
Dual Aluminum Ladders for roof access
Spare Tire Mount on roof at rear of unit
Tread Plate Rear Bumper with Class III receiver trailer hitch and 7-pin RV trailer plug. Bumper is hollow with a lid and gas struts. Bumper interior contains an automatic water pump, two coiled water hoses with nozzles and quick connect fittings. Quick Connect water outlets and the water fill connector are located on exterior sides of the bumper.
Air Conditioner/Heater, 13,500 BTU Roof Mount refrigerated air conditioner with 5600 BTU heater
Onan Quiet Diesel Generator, 8KW with exhaust routed through the ceiling
Dual Large Gel Cell Batteries in Generator Compartment
Battery Charger
Shore Power connector with automatic disconnect switch when generator starts up
Fenders and Mud Flaps
Rubber Grommets and wire protectors on all electrical wiring.
Stainless Steel Truck Kennel
| Item | Retail |
| --- | --- |
| SSCM8 | $56,025.00 |
| SSCM9 | $58,630.00 |
| SSCM10 | $61,350.00 |
| SSCM11 | $67,825.00 |